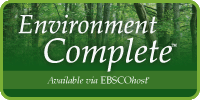 Environment Complete
In need of articles on ecology, freshwater science, pollution and waste management, environmental law, agriculture or renewable energy sources?
If so, you need to check out Environment Complete.
Environment Complete contains full text from over 900 premier journals such as Environment and Conservation Biology.
State employees can access Environment Complete directly from work, or can access it remotely with a Missouri State Library card.
Don't have a library card? Fill out our online application.
Questions? Contact us at 573.751.3615 or libref@sos.mo.gov.